PRODUCING ON AND OFF BROADWAY IN THE 21st CENTURY:
The Good, The Bad and the Ugly…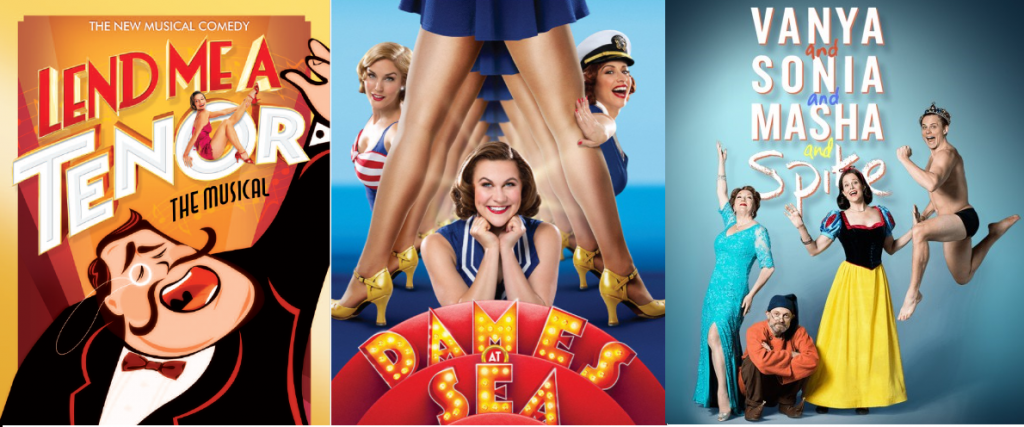 So, you want to be a PRODUCER?
How do you get there – and what are the qualities – and the responsibilities – of a great Producer?
To us, that's the key question… While producing theatre can be exhilarating and profitable – and it brings to mind glitzy opening nights, rave reviews and long runs – it can also be a perplexing and often frustrating process.

Martin Platt and David Elliott are multi-award-winning producers and have collectively produced over 50 productions in New York, London and on tour in the U.S. and abroad.
And as General Managers, we have seen first-hand just about every facet of what it takes to "put on a show" – with all the day-to-day complexity and unforeseen crises!
For a further look at Martin and David (and Perry Street), please look here.
Great producers must be well prepared to make the hard decisions. The investors are trusting you to guide the project to give them best shot at a positive return on their investment. A well-produced show can be the difference between profit and a flop. Every decision has an impact on the success or failure of your show.
Ultimately, the producer is responsible for every aspect of the production — not to mention the bottom line. It is you who must bring the right creative team to the project. You must ultimately decide how the money is spent and must understand fully how "art meets commerce." You must know how to communicate effectively with your creative team, your ad agency and public relations office, and also with your investors.
The course is design to provide you with the tools, insight and know-how gathered from decades of collective experience in both the not-for-profit and commercial theatre to enable you to produce with confidence.
What is the focus of this course and what makes it different?
This will be more than a survey course – we intend to 'dig in' and really get into the specifics of what it takes to produce professional theatre. We will take you through the logical steps of optioning a property and bringing on the key hires. We'll take the mystery out of budgets and contracting, dealing with the various unions (there are a lot of them!), finding the right ad agency and PR team, right up through casting, rehearsals, opening night and beyond.
We will also present "case studies" from four shows we produced and/or managed. Each show profiled will focus on lessons learned — and each one deals with a specific crisis that we will explore in depth.
The course will include a number of industry veterans – general managers, lawyers, advertising & marketing agencies, press reps, production offices, and producers – as guest speakers to give their own unique perspectives and further insight on what it takes to 'put on a show.'
There will be plenty of Q&A during and after each section – we will allow sufficient time for both. We know you may have questions specific to your own projects and we want to answer them in order to help you navigate to your own solutions. You can also email us with questions between classes which we will address for you.
This course includes 15 classes. We will meet via Zoom on Monday nights (and a few Thursday nights as well!) from 6.30p-9.00pm. If you find you are unable to log in at the actual class time, no worries you can request access to watch the class you missed online and you can email questions you might have.
So how do you get there?
Profit from our Experience
This is a 15-class course – $750 (equates to only $50.00 per class)
The first two classes will start in the same week, January 18 (Monday) and then January 21 (Thursday).
Monday nights (and a few Thursday nights as well!)
from 6.30p-9.00pm.
We will resume every Monday, as noted below:
---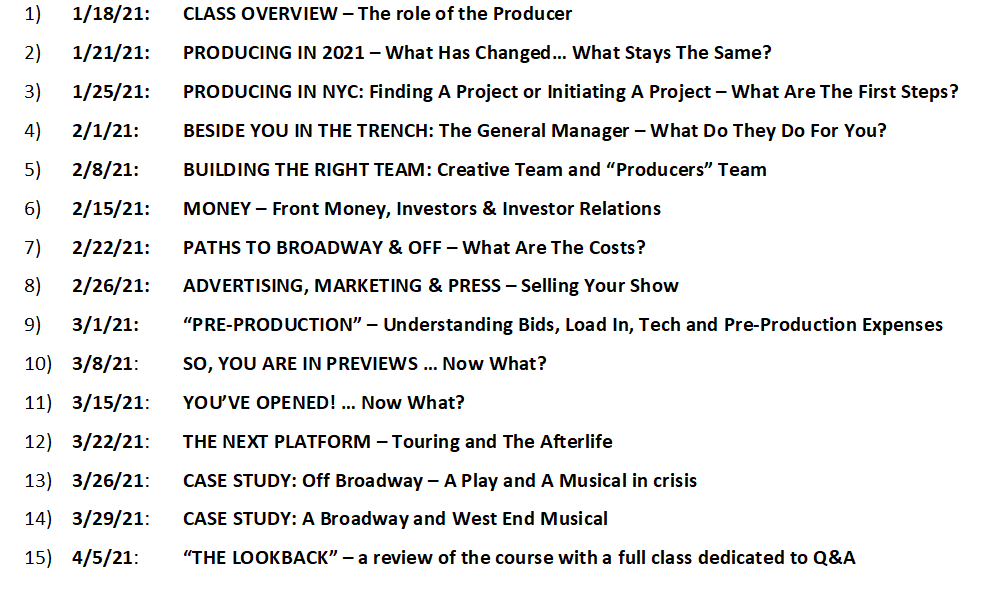 ---
Interested? Email us via the form below to grab your spot. Payment is due upon registration and can be paid via paypal by sending $750 via the buttons below the form.