IN THE CONTINUUM
Written & Performed by Danai Gurira and Nikkole Salter
Directed by Robert O'Hara
In the Continuum puts a human face on the devastating impact of AIDS in Africa and America through the lives of two unforgettably courageous women. Living worlds apart, one in South Central LA and the other in Zimbabwe, each experience a kaleidoscopic weekend of life changing revelations in this story of parallel denials and self-discoveries.
AWARDS
WINNER – 2006 SPECIAL OBIE CITATIONS
WINNER – 2006 OUTER CRITICS CIRCLE
WINNER – JOHN GASSNER NEW PLAYWRIGHTING AWARD
ONE OF THE TOP PLAYS OF 2005
One of The New York Times Top 4 Picks of 2005
One of New York Magazine's Top 3 Plays of 2005 One of Newsday's Top 10 Plays of 2005
One of New Jersey Star Ledger's 10 Best of 2005
CRITICAL ACCLAIM!
New York Magazine Proclaimed: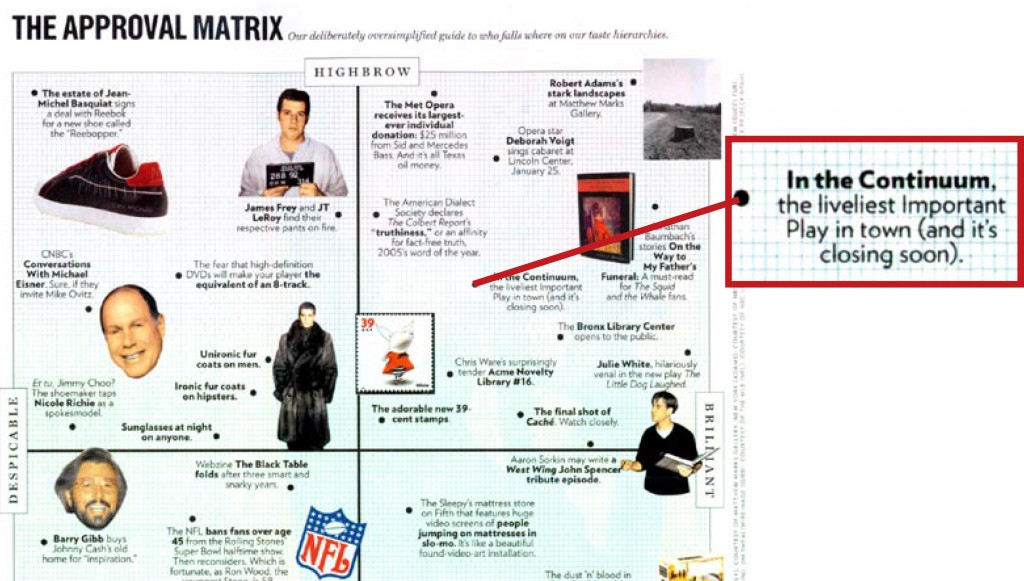 Other Press:
"ONE OF THE HIGHLIGHTS OF THE FALL OFF-BROADWAY SEASON! MOVING, SMART, SPIRITED, AND POWERFULLY FUNNY! THE FIERCELY TALENTED CAST IS FLAWLESS! Authors and performers Danai Gurira and Nikkole Salter possess the strong presence and confident technique needed to bring out the subtle force and potent flavoring in their writing. As worthy as In The Continuum is, it is not a downer – the disturbing points the play gently makes about the status of black women both in America and in Africa are humanized with such emotional vibrancy that the play leaves little aftertaste of sorrow. In The Continuum leaves behind a warm afterglow of human struggles explores, illumined, and embraced. IT PULSES WITH LIFE FROM START TO FINISH!" – Charles Isherwood, The New York Times

"UNFORGETTABLE THEATER!" IN THE CONTINUUM resounds in that space between the unique and the universal, insisting the onstage world can quickly become its own. ALTOGETHER ENGROSSING!" – Mark Blankenship, Variety

"A MUST-SEE EVENT! EARTHY AND STARTLINGLY FUNNY! Danai Gurira and Nikkole Salter are stars in the making and I expect it won't be long before you'll have to fork out a lot more money to see them in a much larger theater. Don't wait to see IN THE CONTINNUM." – Terry Teachout, The Wall Street Journal

"STUNNING. UPLIFITING, AND WITHERINGLY FUNNY! Danai Gurira and Nikkole Salter are powerhouse actors – they bring pure joy to their multiple roles in this remarkably seamless dual-solo show. THRILLING, EXHILARATING AND UTTERLY DISARMING!" -Rob Kendt, Newsday